Apple Variety
Harvest Date/Availability
Common Use
Apple Variety
Keepsake
Harvest Date/Availability
Not in season
Common Use
Excellent eating and good storage
Apple Variety
Regent
Harvest Date/Availability
Not in season
Common Use
Eating, cooking
Apple Variety
Haralson
Harvest Date/Availability
Not in season
Common Use
Eating, pie, baking, sauce, jelly, freezing
Apple Variety
Connell Red Fireside
Harvest Date/Availability
Not in season
Common Use
Eating, salads
Apple Variety
Fireside
Harvest Date/Availability
Not in season
Common Use
Eating, salads
Apple Variety
Jonathan
Harvest Date/Availability
Not in season
Common Use
Eating, baking, pie, sauce, freezing, jelly
Apple Variety
Minnesota Honeycrisp
Harvest Date/Availability
Not in season
Common Use
Eating, salads, sauce
Apple Variety
McIntosh
Harvest Date/Availability
Not in season
Common Use
Eating, baking, pie, sauce, freezing
Apple Variety
Cortland
Harvest Date/Availability
Not in season
Common Use
Eating, baking, pie, sauce, freezing, jelly
Apple Variety
Gala
Harvest Date/Availability
Not in season
Common Use
Eating, baking, pie, sauce, freezing
Apple Variety
Sweet RiverBelle
Harvest Date/Availability
Not in season
Common Use
Eating, salads, sauce
Apple Variety
Sweet Sixteen
Harvest Date/Availability
Not in season
Common Use
Eating, sauce, freezing
Apple Variety
Chestnut Crab
Harvest Date/Availability
Not in season
Common Use
Eating, pickles, jelly, sauce
Apple Variety
Whitney Crab
Harvest Date/Availability
In season NOW
Common Use
Eating, pickles, jelly, sauce
Apple Variety
Dolgo Crab
Harvest Date/Availability
Not in season
Common Use
Eating, jelly
Apple Variety
Minneiska/SweeTango
Harvest Date/Availability
Not in season
Common Use
Eating, salads, sauce
Apple Variety
Zestar
Harvest Date/Availability
Not in season
Common Use
Eating, salads, sauce
Apple Variety
Beacon
Harvest Date/Availability
Not in season
Common Use
Eating, pie, sauce, freezing
Apple Variety
State Fair
Harvest Date/Availability
NOW available for Pick Your Own
Common Use
Eating, pie, sauce, freezing
Apple Variety
Paula Red
Harvest Date/Availability
In season NOW
Common Use
Eating, pie, sauce, freezing
Apple Variety
Duchess
Harvest Date/Availability
In season NOW
Common Use
Eating, pie, sauce, freezing
Apple Variety
Mantet
Harvest Date/Availability
In season NOW
Common Use
Eating, pie, sauce, freezing
Apple Variety
Viking
Harvest Date/Availability
In season NOW
Common Use
Eating, pie, sauce, freezing

Pick-Your-Own Apples: Instructions and Tips
Check In at the Apple Barn
When you arrive at the orchard, purchase a special Pick Your Own bag inside the Apple Barn or at the designated tent outside. We will direct you to the trees that are ready for picking. Please do not pick apples in other areas. Please check our availability prior to visiting. Our website is updated daily or just give us a call. Apple picking isn't guaranteed for everyday of our season.
Use the Right Technique
Cup the apple in the palm of your hand. Twist the apple up and over the branch. This method ensures that next year's bud is undamaged and ready to produce another apple next season. Pick apples from the tree branches, never off the ground.
Respect the Trees (and Fellow Visitors)
Climbing the apple trees can damage them, so please don't. It's tempting, but please refrain from eating apples while you're still in the orchard. And—it should go without saying—no throwing apples!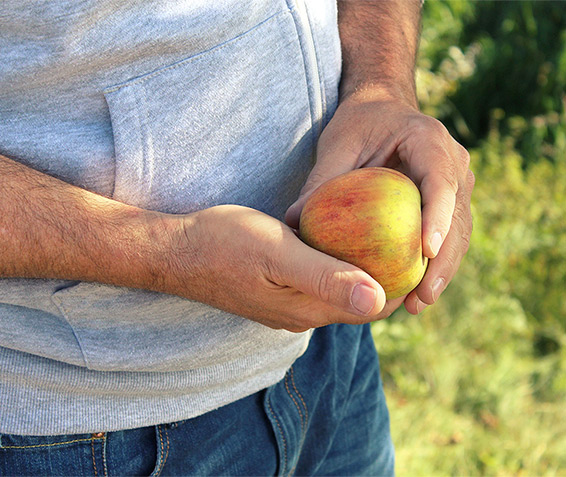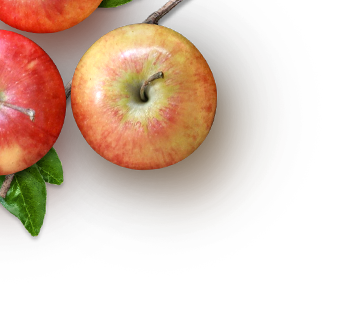 3 Ways To Purchase Apples