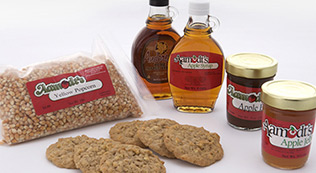 Something for Everyone
This box has a little something for everyone to enjoy. It features a half-dozen of our famous Aamodt's Apple Oatmeal Cookies, one 8 oz. jar of Aamodt's Apple Butter, one 9 ½ oz. jar of Dutch apple jam, one 8 oz. bottle of pure maple syrup, one 8 oz. bottle of our own Aamodt's Apple Syrup. And we top it off with a 2 lb. bag of Minnesota grown popcorn. We ship every Monday and only to the continental United States.
Shipping included in price!