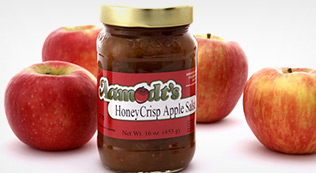 Honeycrisp Apple Salsa
Our Honeycrisp Apple Salsa is sweet with a little kick, made with fresh, Minnesota Honeycrisp Apples. Excellent with chips and crackers. It also adds an amazing touch to pork tenderloin, pork chops and roasts. We do have a limited supply, which we replenish throughout the season. We ship every Monday and only to the continental United States.
*One order contains two jars.
Shipping included in price!