Chris Aamodt's Favorite Apple? Meet Keepsake.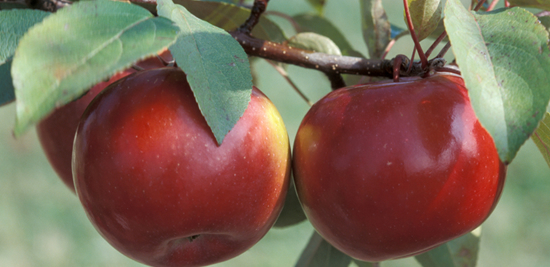 Aamodt's Apple Farm owner Chris Aamodt's favorite apple goes quietly unnoticed by most orchard visitors. "Keepsake" is an interesting little apple that, like Honeycrisp, is a product of the University of Minnesota's apple breeding program. In fact, it's a parent of Honeycrisp. A cross of Northern Spy and Malinda apples, Keepsake was first introduced in 1978.
Typically rather small and not particularly beautiful, what Keepsake lacks in aesthetics it makes up for in texture and flavor. Keepsake is hard and crisp, with an unusual flavor that's somewhat like sugar cane. Best of all, it can extend your Minnesota apple eating season for weeks: True to its name, Keepsake will keep for months when properly stored in cool, moist conditions, like a root cellar, cool (not freezing) garage or refrigerator. This late-season apple is not widely available at Minnesota apple orchards, and you're unlikely to find it at the grocery store. But they're ripe and ready right now at Aamodt's!