About Aamodt's Apple Farm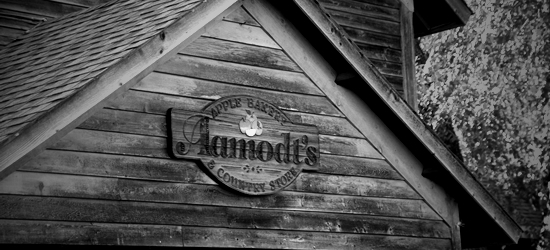 Bringing in the harvest for over 60 years!
For three generations the Aamodt family has nurtured the finest apples and invited you to turn back time and sample the good life at their picturesque apple farm. The personal touch is as much a central part of Aamodt's Apple Farms today as it was in 1948 when Thor and Lucille Aamodt planted the apple orchard. Tom and JoAnn Aamodt expanded it to include more than 6,000 apple trees and 50 acres.
A Little History, A Lot of Love.
In 1948 Thor and Lucille Aamodt put all the money they had into a parcel of land just west of Stillwater with the hopes of creating an apple farm. With the help of their son, Tom, some seedling honeycrisp apple trees, a carefully developed plan for planting and a lot of prayers, they laid the groundwork for what was to become Aamodt's Apple Farm.
Today, Chris and Billi Jo Aamodt are making subtle changes at the farm designed to expand upon the Aamodt family commitment. The 50 acre apple farm has as its core a cluster of historic buildings that gives the taste of American farm life. The quaint Aamodt farm boasts two 1880's barns, granary, apple storage and preparation barns, and bakery. All are open free to visitors.
It's been 65 years and three generations of Aamodt's since their dream first began. In that time each generation has added to the dramatic growth of the apple orchard. From adding more acreage and thousands of honeycrisp apple trees to developing and selling homemade products.
But more importantly, the foundation of Thor and Lucille's dream remains unchanged. We remain committed to providing our visitors a look at the entire apple growing tradition in a way that most apple orchardists have replaced with technology. We remain committed to the idea that your family trip to the apple orchard should be educational, fun and relaxing. And we're committed to bringing you quality and freshness that can only be defined as "Orchard Fresh."